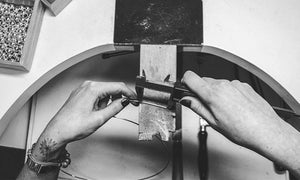 AT NO MORE WE BELIEVE THAT FASHION CAN BE WASTE-FREE.
Wasteless fashion
We know that being sustainable is as important to you as it to us and we believe you will love this as much as we do.
To stand by our commitment to sustainability, we offer an opportunity to return worn NO MORE pieces that are no longer providing you joy back to us in exchange for a 15€ off your new NO MORE piece.
If the returned piece looks decent we will renew the piece to mint condition and will offer it to a new happy and environmentally friendly owner. In cases when the piece cannot be simply renewed - we will recycle the silver and bring it back to life as a new piece of jewelry. Silver can be recycled repeatedly with no impact on quality and the environment. Why hide something away in a drawer when it can be used to save resources and make someone happy. At NO MORE we believe that fashion can be waste-free and this initiative is our step toward responsible wasteless fashion.
Start making new memories with your new piece of jewelry with no impact on the environment.
HOW DOES IT WORK?
It's pretty simple.
Send us an e-mail to ask@nomoreaccessories.com with the subject line Wasteless Fashion, information what jewelry you are returning to us, a tracking number for the shipment and let us know what new piece of jewelry you wish to purchase with the 15€ discount.
Write Wasteless Fashion on the envelope.
Make sure that returning address and your name are on the envelope. Better yet - put your email address and the name of the new piece of jewellery you wish to purchase inside the envelope
Send it to:
NO MORE accessories
T. Sevcenkos 16J - 125
03111
Vilnius, Lithuania
Wait for an e-mail from us with a purchase link with discount applied for your new piece of jewelry.
T&CS
* You will receive a link with 15€ discount for your selected item as soon as we receive your shipment.
* The link will be valid for 3 months from the day you received it.
* If you are sending us two different pieces of jewelry - you will receive a 15€ off for two separate items and so on. One pair of earrings counts as one piece of jewelry.
* Discount is not valid on bundles.
* Discount cannot be combined with any other offer.  
That's it - it's pretty simple and pretty wasteless.
HANDCRAFTED
NO MORE designs are created with the idea of slow fashion in mind. Each piece of jewelry is carefully handcrafted by skillful jewelers in our small studio based in Vilnius with the help of amazing individual artisans.
Continue reading
SUSTAINABLE
At NO MORE we are firm believers that envirnomental and social responsibility is our responsibility too. And we take it very seriously. We are committed to making jewelry more sustainable. It's our core value that is highly integrated into every step we take in NO MORE journey.
Continue reading
EVERLASTING
We said NO MORE to chasing seasonal collections and the latest trends. While we do have collections, they represent different styles rather than seasonality.
Continue reading