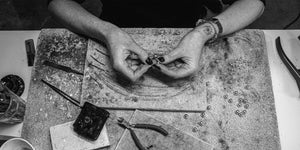 SUSTAINABILITY – IT AIN'T JUST A WORD FOR US!
We are firm believers that environmental and social responsibility is our responsibility
Even though NO MORE was not started with the idea of sustainability and ethical-fashion in mind, it was always part of our DNA - even before passion transformed into NO MORE. We, the whole team behind NO MORE, are firm believers that environmental and social responsibility is our responsibility, it's our core value that is highly integrated into every single step we take on the NO MORE journey.
From little things such as reusing the box that NO MORE receives materials to delivering our jewelry to partner stores or handing out second-hand grocery bags to couriers, to much larger things such as keeping our production in-house and material suppliers as close to home as possible. This enables NO MORE to use only the highest quality materials that can be traced back to its sources as well as keeping mother earth happy by reducing the amount of emissions involved in transportation. Our meticulous planning and production process limits dead stock and keeps us focused on producing NO MORE than is needed.
WEAR BOOBS WITH PRIDE
Celebration of the feminine strength, confidence, and uniqueness
Thanks to people like you, we are able to partner with various NGOs and projects and donate part of the profits to different causes. One of the latest projects that NO MORE is particularly proud of is its launch of the Boobs Necklace - a celebration of the feminine strength, confidence, and uniqueness - where one third of sales of each necklace will be donated to NGO's indefinitely that focus on strengthening gender equality, raising awareness against bias, and eliminating violence against women in daily life.
For as long as we are 30% of the Boobs necklace value will be donated to our partnered organisation supporting women.
If you have a necklace you love and you're not in a need of a new one - you can always make a one-time donation to Vilniaus Moterų Namai.
For long term donations to Vilniaus Moterų Namai you can subscribe to membership.
WASTELESS FASHION
Start making new memories with your new piece of jewelry with no impact on the environment.
We know that being sustainable is as important to you as it to us and we believe you will love this as much as we do.To stand by our commitment to sustainability, we offer an opportunity to return worn NO MORE pieces that are no longer providing you joy back to us in exchange for a 15€ off your new NO MORE piece.
Reduce the impact on mother earth.
The packaging is harming our environment and while NO MORE uses recycled and recyclable packaging there's always more to be done to reduce the impact on mother earth. While jewelry needs to be packaged appropriately it does not need to use as many boxes as it does. For this reason, we offer the opportunity to customers to choose to have their jewelry packed in as few boxes as possible.
Don't forget to pick the packaging option during checkout! Happy shopping!